Shale gas and coal bed methane
Our regulatory role in relation to shale gas and coal bed methane activities, including hydraulic fracturing (also known as fracking), is to protect the environment and human health.
This page gives a brief background to shale gas and coal bed methane (also known as onshore unconventional oil and gas), and explains our regulatory role and the wider regulatory framework in Scotland
Moratorium on onshore unconventional oil and gas in Scotland
On 8 October 2015, the Scottish Government announced a new moratoriumon granting consents for underground coal gasification, and updated the moratorium on onshore unconventional oil and gas developments, originally announced in January 2015.
Scottish ministers issued two Directions to SEPA "to refer to them for their determination any application under the regulations for an authorisation to carry on any controlled activity in connection with" … unconventional oil or gas development  (amended from the Direction issued in January 2015) and underground coal gasification. The amended and the new Directions mean that neither moratoria include "the drilling of boreholes solely for the purpose of core sampling."
On 8 November 2016 the Scottish Government publishedthe onshore unconventional oil and gas evidence gathering reportsthat they commissioned. As Scotland's principal environmental regulator, we provided technical support in key areas and advice on the current regulatory control to these studies, highlighting the conclusions reached by the independent research projects.
On 31 January 2017, the Scottish Government launched their public consultation on Onshore Unconventional Oil and Gas. The consultation closed on 31 May 2017. SEPA's response will be published by Scottish Government in due course. The Scottish Government also published supporting information at www.talkingfracking.scot
Underground coal gasification in Scotland
Professor Campbell Gemmell, Professor of Environment Research, Policy, Regulation and Governance at the University of Glasgow, published the independent reporton 6 October 2016, which highlights serious environmental concerns. Mr Wheelhouse stated in Scottish Parliament, "Having considered the report in detail, it is the Scottish Government's view that UCG poses numerous and serious environmental risks and, on that basis, the Scottish Government cannot support this technology. Accordingly, UCG will have no place in Scotland's energy mix at this time."
The full statement from Scottish Government is available on their website
Further details are available from the Scottish Government website.
Onshore unconventional oil and gas
Unconventional oil and gas
Shale and coal are source rocks for unconventional oil and gas, producing shale gas and coal bed methane (CBM), respectively. The term unconventional gas refers to natural gas held in rocks that cannot be exploited using traditional methods.
The low porosity and permeability of shale and coal formations means that gas does not flow through them freely, in contrast to conventional gas reservoirs, which are often made of limestone or sandstone. In addition, shale and coal formations often occur in widely spread, thin layers, making the trapped gas difficult to access. Hence, techniques such as horizontal drilling, dewatering and hydraulic fracturing (aka fracking) are needed to access and retrieve the natural gas contained within them.
Fracking
The technique of hydraulic fracturing, also known as "fracking", is used for shale gas but not typically coal bed methane. Globally, the use of fracturing techniques to stimulate the recovery of oil and gas has expanded greatly in the last decade or so. Hydraulic fracturing methods are well-established and have a wide range of applications, including enhancing water flow in aquifers used for drinking water (albeit without chemicals in the fracturing fluid).
The process of hydraulic fracturing involves pumping water into the source rock, which is typically located 1-2 km below ground, at high pressure so that the rock fractures and releases the trapped gas. This water also contains a small percentage of sand (~5%) and chemicals (<1%) to improve efficiency of the operation.
Extracting coal bed methane, on the other hand, normally only requires water to be drained from the coal seam to release pressure (known as dewatering), so hydraulic fracturing is not typically necessary.
Further information
Information on the techniques, technical challenges and potential environmental impacts of shale gas and coal bed methane development can be found in the following reports:
SEPA's role
Our role includes:
The following permits, licences and authorisations may be required from SEPA:
For further details, please see our:
How shale gas and coal bed methane is regulated in Scotland
In December 2013, the Department for Business, Energy & Industrial Strategy (BEIS) published a Regulatory Roadmap for Onshore Oil and Gas Exploration in the UK. The roadmap provides a clear overview of the permitting and planning process in Scotland as well as the UK.
The diagram below summarises the relationships between regulators of unconventional gas exploration operations in Scotland: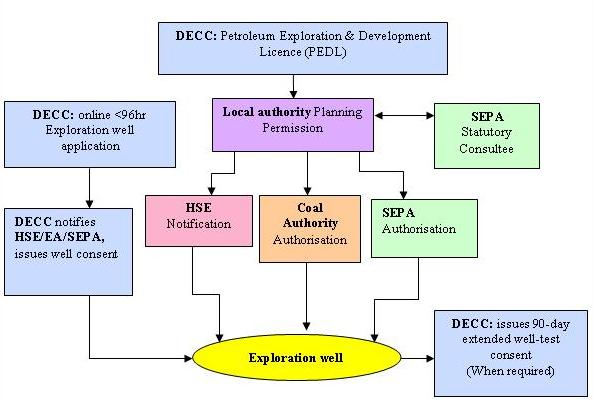 We work closely with these other regulators to ensure regulation for unconventional gas is joined-up, effective and efficiently delivered.
In brief, the roles of these regulators are as follows: