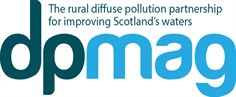 The Diffuse Pollution Management Advisory Group (DPMAG) is a partnership that focuses on protecting and improving Scotland's water environment by reducing rural diffuse pollution.
The Diffuse Pollution Management Advisory Group (DPMAG) helps create a robust governance, decision-making and coordination framework for the effective delivery of rural diffuse pollution actions in Scotland and ensures input from a cross section of rural, environmental and biodiversity interests. The remit for the group can be found here.
Strategy to reduce diffuse pollution
DPMAG have developed a two tiered strategy approach to reduce diffuse pollution in Scotland:
A national campaign to prevent water bodies from deteriorating in status and make improvement where they are not far from a status boundary. This includes awareness raising through Farming and Water Scotland, Forest and water Scotland and a national engagement programme.

A targeted approach in priority catchments where the extent of diffuse pollution problem on the water environment requires a more focused approach and smaller Focus Areas where the catchment generally has low intensity land use and in some an additional monitoring and investigation are needed to refine an action plan.
The rural diffuse pollution plan for Scotland
The rural diffuse pollution plan for Scotland aims to ensure that the key stakeholders in Scotland work in a co-ordinated way to reduce diffuse pollution from rural sources. The existing plan is being updated following the publication of the second River Basin Management Plans in 2015. The updated Rural Diffuse Pollution Delivery Plan was published in 2017.
DPMAG members
Members of DPMAG include representatives from organizations who have rural diffuse pollution interests, including:
Scottish Environment Protection Agency
Meetings
25 September 2017:
 Agendas, minutes and papers from previous meetings are available on request.
Contact us
For further information, please contact us.