The scale of environmental challenge facing humanity is enormous, with a real urgency to act. That's why for Earth Overshoot Day 2020 we've created a powerful partnership with California-based Global Footprint Network.
Earth Overshoot Day is the day when we go into ecological debt, when humanity's demand for ecological resources and services exceeds what Earth can regenerate in that year.
Over the past 20 years we've lost a month to global warming and climate change and we're now living more than a third of the year in ecological debt. 
Together we are calling on societies around the globe to take action to #MoveTheDate.
Successful businesses in future will be those that use low amounts of water, materials and carbon-based energy and create little waste. Prosperous societies will be comprised of these businesses. This can be Scotland.
Watch again: Choosing our future by design, not disaster
As Earth Overshoot Day approaches and the world goes into ecological debt our webinar series focuses on the urgency to act and the business case for accelerating action to #MoveTheDate.
The first of the series, led by keynote speaker, Dr Marie Macklin CBE, focused on the importance of business, partnership and leadership in creating inclusive, sustainable, economic prosperity. The webinar is available online to view in full.
Earth Overshoot Day global launch

Join the global launch of Earth Overshoot Day and put a spotlight on the urgency to act and accelerate the pace of action against the over use of resources.
Scotland has a vision for global environmental leadership. Chaired by award winning broadcaster, Steph McGovern a panel of leading figures from politics, businesses and academia including Cabinet Secretary for Environment, Climate Change and Land reform, Roseanna Cunningham MSP will discuss the business case for positive action and bring together perspectives from around the globe.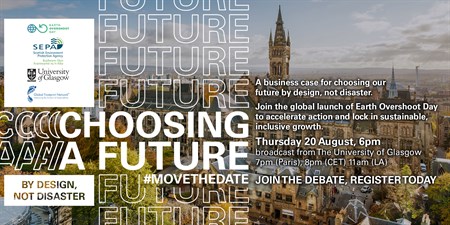 The virtual event is hosted in partnership by the Scottish Environment Protection Agency (SEPA), University of Glasgow and Global Footprint Network.
The virtual event will take place at 6pm on Thursday 20 August. Registration is now open.
Get involved
Join the conversation online and show your support for the campaign. #MoveTheDate and follow @Scottishepa and @EarthOvershoot.