Netregs - Environmental Guidance for Business
Netregs - Environmental guidance for business
Small businesses account for more than half of serious pollution incidents, and waste produced, in Scotland and Northern Ireland. To help alleviate this, SEPA, in partnership with the Northern Ireland Environment Agency, runs NetRegs.
NetRegs provides environmental guidance for businesses in Northern Ireland aned Scotland. The site and accompanying app provides free advice, guidance and online tools about environmental regulations and how to comply with them. Click through on the image below to visit the site.

Small to Medium Enterprises (businesses that employ fewer than 250 staff) often find regulations and regulatory guidance complex and difficult to understand, and perhaps lack the time or expertise to work out what their responsibilities are. NetRegs helps tackle this by providing easy to find and understandable guidance and advice, saving businesses time and money, helping them comply with environmental regulations, and encouraging them to work towards environmental excellence through best practice.
Small businesses have estimated that they saved on average between £500 and £1000 per year because of NetRegs, with larger businesses saving considerably more. The Scottish Council for Development and Industry said: "Whichever business sector you are in, and whatever the environmental topic, NetRegs is a very useful and effective tool to guide any organisation towards achieving cost-effective compliance with environmental legislation." Changeworks Recycling, a waste and resource management company in Scotland that works with business to help them reduce waste, carbon and costs, said: "We have found that using NetRegs has saved us, and our clients' money, in terms of time and resources and has helped our business be more efficient."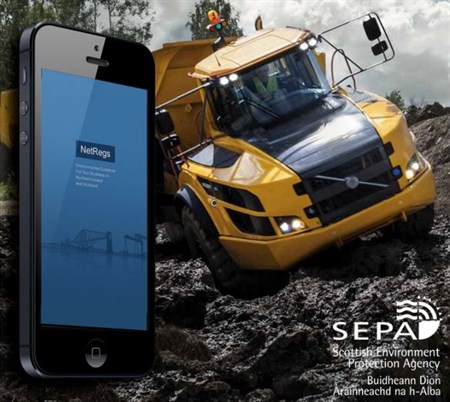 The success of NetRegs stems from strong partnership working between SEPA, NIEA, trade associations and business. A business advisory group helps ensure that NetRegs guidance is fit for purpose, and identifies where more work is needed. For example, following their advice an online self-assessment tool was developed for the website which allows a business to carry out an environmental check-up to make sure they comply with regulations. The business advisory group has also helped produce real-life case studies for the web site. A number of videos have been produced in partnership with sectors such as construction and agriculture showing staff from different businesses talking about best practice and the benefits of achieving environmental excellence.
There's also a NetRegs app, with which business owners can work through simple compliance checklists on a range of activities specific to their sector. This is proving particularly useful for rural businesses who operate in more remote areas as well as for those who routinely work out of the office. The app also allows workers on construction sites to easily access information on environmental regulations relating to their activities e.g. drainage and excavation works, and quickly check that they are not causing environmental pollution. This supports construction companies in maintaining high standards of environmental protection and regulatory compliance. Mackenzie Construction said: "We've found NetRegs really user-friendly. It is a great one-stop-shop which helps condense all the information you need surrounding environmental compliance."
NetRegs has developed a suite of e-courses, designed to provide an accessible and engaging insight into a number of issues that are important to businesses. These range from topics with a general appeal, such as Duty of Care and Transport: Reduce your emissions, to topics that are more sector specific. These e-courses have proved popular, and are being continually added to.
NetRegs is a great example of how successful engagement and partnership working can help spread the word about good practice in a wide range of business sectors and support them in improving environmental performance and saving money. To deliver One Planet Prosperity it is integral that we empower businesses with the right tools to match compliance, as well as have the necessary tools and information to go beyond compliance. More tools to help businesses are planned for the future as Scotland continues to forge a pioneering path on tackling climate change.
NetRegs - One Planet Success

Economic

Easier and more cost effective compliance with environmental legislation
Small business save £500 to £1000 per year

 

Environmental

Increased understanding of potential impacts of business activities on environment
Improved environmental performance by SMEs
Reduced environmental incidents

 

Social

Better partnerships between regulator, trade associations and businesses
This initiative is targeted at the following Sustainable Development Goals (SDGs):

You can find more examples of One Planet Prosperity in action here.