Keynote address to Waste Management industry, Leeds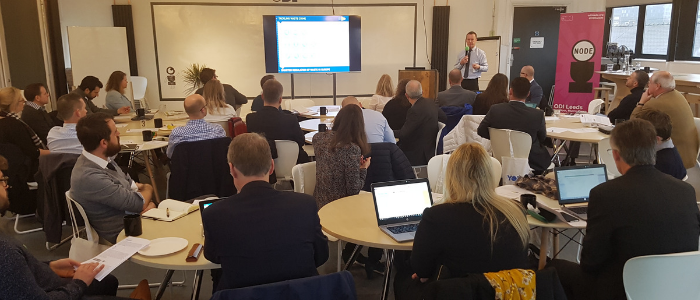 29 November 2018
Iain Brockie, SEPA's Technical Team lead for the LIFE SMART Waste project, joined a Waste Management Smart Class 2018 in Leeds on 28 November to deliver a keynote presentation entitled "Life SMART Waste – Innovative Ways to Understand, Tackle and Reduce Waste Crime".
The Waste Management Smart Classes aimed to show key stakeholders how deploying the latest digital technology-enabled solutions and best practices can help increase the efficiency of waste collection, separation and disposal, and facilitate the transition of the UK waste market to a circular economy. Keynote presentations to delegates - including representatives from UK local authorities, industry representatives and public sector agencies - gave real world insight into collaborative initiatives, digital journeys and the adoption of emerging, transformative technologies and data-driven insights.
The LIFE SMART Waste keynote presentation focused on digitally innovative and data driven highlights of the project, including:
Remote Sensing pilot – using various methods of earth observation (including satellite imagery) and a probability model to identify both potential and actual sites of illegal waste disposal;
Horizon Scanning Toolkit – identifying, and prioritising, the online indicators of potential issues coming our way in the short, medium and long term;
Financial Risk Assessment Toolkit – helping regulators as a decision making tool when considering licence/permit applications;
Waste Crime Indicators Toolkit – combining data analysis with regulatory insight to develop indicators;
Competitive Intelligence Toolkit – identifying gaps in our understanding of challenging waste streams.
The presentation also considered additional issues, including China's ban on plastic waste imports, what this might mean for the UK and Europe and how we look to gather that information.
For further information on the event, visit the Smart Classes web site.

 Back to News and events