SEPA is the flood warning authority for Scotland and has a strategic role to play in how we manage flood risk. This area of the website shares information on the wide range of flooding work that SEPA is responsible for and contributes to.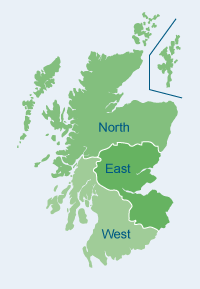 Flooding can affect us all. Public bodies are working closer than ever before to manage the risk and impacts of flooding but you have a part to play too. In this area of the website you can:
- Find out if your area is at risk of flooding
- Sign up for advance notice of flooding and live flooding information
- Find out about SEPA's responsibilities for flooding and the role of other organisations involved in flood risk management
- Learn more about flooding in your area, including how flood risk is managed and how to get involved in community groups or projects
Working in partnership with other organisations we are now developing Scotland's first ever Flood Risk Management Strategies and Local Flood Risk Management Plans to focus action in the areas with the greatest risk of flooding and where the benefits of intervention can be realised. Find out more from our flood risk management pages.
To find out how you can be prepared for flooding visit our Floodline website which has advice and simple tools to help you take action and reduce the risk of flooding on you, your family, property or business.