Flood Warning Development Framework
In line with our push towards One Planet Prosperity, our approach to flood risk management is continually evolving. Climate change presents the greatest risk to humanity. It is happening now and the impacts are already evident. In Scotland, we will see a greater chance of extreme hazards including flooding, drought, heatwaves and sea level rise.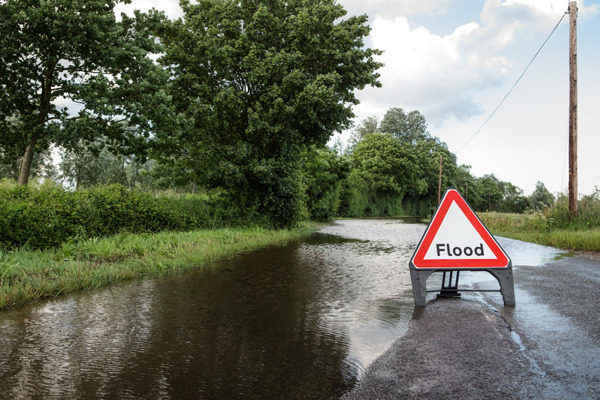 Our future Flooding Strategy will contribute powerfully to the aims of One Planet Prosperity. It will enable the identification of pathways for adaptation to future climate change and support resilience to flooding in Scotland. It will support our communities, businesses and partners to act positively in response to new climate challenges and opportunities, and we will work across SEPA's functions to ensure that our interactions with stakeholders and regulated businesses are effective.
The Flooding Strategy will increasingly focus our priorities on:
Future focused: embedding our understanding of future flood risk pathways in our plans, actions and advice will enable adaption to the effects of climate change and reduce overall flood risk now and in future
Resilient places and people: taking a rights-based approach to flood risk management will enable individuals and communities to become more resilient to flooding now and in future
Extended relevance: existing powerful relationships with responsible authorities will provide the core of a network of partnerships that extends the relevance of sustainable flood risk management to new sectors
Adaptation
SEPA is Scotland's flood forecasting and warning authority and strategic flood risk management authority. In immediate and practical adaptation terms, our flood forecasting, warning and informing work helps us prepare Scotland's flooding responders and local communities to deal with known flood risk. We aim to give people enough time to take action and reduce the impact of flooding.
Effective action based on accurate forecasts and timely warnings can result in a significant reduction in risk to life, social impacts, property damage, business and infrastructure disruption. This work is directed by our Flood Warning Development Framework, which sets out how we intend to maintain and improve our services over the next six years. It is the third Framework we have developed, with the cycle in alignment with the Flood Risk Management planning process introduced by the Flood Risk Management (Scotland) Act 2009. 
Our operational partnership with the Met Office - the Scottish Flood Forecasting Service (SFFS) – delivers part of that, with specialised product the Flood Guidance Statement issued daily to all of Scotland's emergency response, utility and transport organisations 365 days a year. This helps maintain flood vigilance and preparedness amongst the civil contingency community, particularly local authorities, so effective response can be delivered.
This, alongside dedicated 24/7 monitoring of around 700 river, coastal and rainfall sites, informs our Floodline flood warning and informing services, which serve all of the country, but focus on more than 300 Flood Warning Areas. Working directly with local communities and through partnerships with organisations like the Scottish Flood Forum, Education Scotland, Scottish Fire & Rescue Service, Neighbourhood Watch and Citizens Advice Scotland we build community resilience by raising awareness and helping people understand, access and use our services. These stakeholders also help us improve existing and develop new products and services, which include a public-friendly daily Scottish flood forecast introduced in May 2022.
Strategic planning to reduce a flood risk future
In 2009 the Flood Risk Management (Scotland) Act brought a national, risk-based and collaborative approach to flood risk management in Scotland and SEPA has a vital delivery role.
Our responsibilities are intentionally flexible and require us to develop flood risk evidence (like the National Flood Risk Assessment) and use it collaboratively to produce effective flood risk management strategies and our national flood maps. They also require us to work in partnership, especially with councils who produce Local Flood Risk Management Plans - and to seek extensive stakeholder and public input to deliver sustainable flood risk management.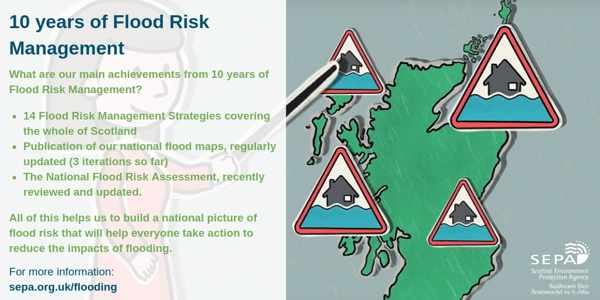 More detail on is available from our flooding web pages and flooding-related queries can be emailed using our online contact form.
For the full details of our Flood Warning Development Framework, please consult the below PDF attachment.