Floodline, in Scotland, is operated by the Scottish Environment Protection Agency (SEPA). It provides live flooding information and advice on how to prepare for or cope with the impacts of flooding 24 hours a day, 7 days a week.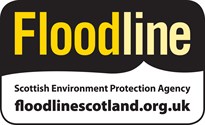 Sign up
The best way to be prepared for flooding is to sign up for free, advance notice of flooding from Floodline. When you are signed up to Floodline and flooding is forecast in your area, we will send you a message by phone or text, advising that a Flood Warning or Flood Alert has been issued and where to go to find out more about the flooding situation. Sign up takes just a few minutes and all flood messages are free.
Receiving advance notice of flooding can give you time to prepare yourself, your home and your family for flooding, reducing the damage and disruption flooding can have on your life.
In Scotland, 108,000 properties are at risk of flooding as well as the impacts to local roads and community facilities when flooding happens. We can all be affected by flooding so be prepared and know what to do by using Floodline.
For advice, useful tools and information on how to prepare for flooding, including how to look after your property, business or animals visit our Floodline website. There's videos, checklists and much more to help you to be prepared and reduce the impact of flooding and disruption to your life. We also have information on how to cope after flooding happens.
 Before signing up, please take a moment to view Floodline's Terms and Conditions for more information on the service, creating your Floodline account and the type of messages you will receive.

Understanding Flood Alerts and Flood Warnings
When you sign up we will check if you live in a Flood Warning Area where we have river and coastal monitoring and can provide targeted local Flood Warnings. If you are not in a Flood Warning Area you will be signed up for a Flood Alert which provides a more general message for a larger geographical area about coastal, river and surface water flooding.
Message

How much warning will it give you?

What does it mean and what action should you take?

When is it issued?

 

We aim to issue this message as early as possible up to a maximum of 36 hours in advance of expected river, coastal and surface water flooding.

Flooding is possible.

Flood Alerts give an early indication of potential flooding.

They prompt you to remain alert and vigilant and provide you with time to make early preparations for potential flooding.

Flood Alerts are issued for larger geographical areas, usually matching local authority boundaries.

Generally 8am-6pm, 7 days a week.

However, in exceptional circumstances, Flood Alerts may be issued outside these hours.

 

 We try to issue this message 3-6 hours in advance of expected flooding. This may not be possible to do so in areas prone to rapid flooding or when water levels have escalated more quickly than expected.

 

Flooding is imminent.

Immediate action is required – take measures to protect yourself and your property.

24 hours a day.

  

 

When severe flooding is likely to cause significant risk to life, destruction of properties or local communities.

A Severe Flood Warning is likely to be issued when flooding has occurred to change the status of the flooding. It will generally be issued when flooding is creating potential impacts that require further action such as evacuation.

Prepare to evacuate and co-operate with the emergency services.

24 hours a day.

No longer in force messages

Issued when Flood Warnings and Flood Alerts are no longer in force.

No further flooding is currently expected for your area.

Flood waters may still be around but you can start the clean up process.

24 hours a day
Live flood updates can be accessed online at any time, providing detailed flooding information by area. Alternatively, our quick dial codesgive current flood updates over the phone.
Find out more about different types of flooding and how we forecast for flooding.
Flood Warning Areas
Flood Warning Areas are those areas where we have the river and coastal monitoring in place to provide Flood Warnings for a targeted geographic area. SEPA has worked with local authorities and other public bodies to analyse historical flooding information and identify locations most at risk from flooding. For these areas, enhanced coastal and river flood forecasting capabilities have been developed using data from a network of rainfall, river and coastal monitoring stations throughout Scotland enabling us to deliver a Flood Warning. There are currently over 250 Flood Warning Areas in Scotland providing thousands of people with advance notice of flooding. The development of new Flood Warning Areas is driven by SEPA's Flood Warning Strategy.
New Flood Warning Schemes

As Scotland's national flood forecasting and warning authority, SEPA works closely with local communities to help improve resilience and reduce the impact of flooding. Since 2012, considerable work has been undertaken to improve our flood warning services. Between 2012-16, seven new Flood Warning schemes were designed and implemented, including a large coastal scheme around the Solway Firth. 
We have are committed to delivering a further 14 new Flood Warning schemes between 2017-21, as detailed in our Flood Warning Development Framework., and recently launched two new coastal Flood Warning schemes in Orkney and for the North East coast.
For more information on our new Schemes, visit the Floodline website.
Call charges
The cost of calling Floodline varies depending on your service provider, your call package and whether a landline or mobile is used. All public bodies are encouraged to use 03 numbers, which are charged at the same rate as call to 01 and 02 geographical numbers and must be included within free call bundles in phone packages. The 0845 number is still available and is charged at a business rate. Check your call package to see which number is best for you.
Terms and conditions
Full terms and conditions for customers registered to receive flooding messages are available.
Report-a-Flood
Share information online about current flooding
Report-a-Floodis a tool which enables anyone to report and share current flooding issues. Reports are sourced by members of the public or organisations and can help alert people of localised flooding. Reports made to the webpage are not verified by SEPA. Those who wish to know what updates SEPA has put out should visit the Live Flood Updates page.