One Planet Prosperity - Our Regulatory Strategy
As a society we are over-using our planet's resources. If everyone lived as we do in Scotland, we would need three planets to sustain ourselves. In the 21st century and beyond, only those businesses that operate in harmony with our one planet will thrive.
Everyday SEPA works to protect and enhance Scotland's environment, helping communities and businesses prosper within the ecological capacities of our planet. We call this One Planet Prosperity.  

One Planet Prosperity is changing the way we do things and is designed to help businesses harness the socio-economic benefits of environmentally positive action. See our CEO, Terry A'Hearn, talk about this new mindset below.
How does One Planet Prosperity affect regulation?
Compliance with environmental regulation is non-negotiable. This has not, and will not change. The One Planet Prosperity approach does not alter any of the environmental regulations businesses must adhere to or how we enforce them but it does change our approach to regulation.
We firmly believe that working with businesses to go beyond compliance is the best way to deliver the ambitious goals of One Planet Prosperity; combining the things SEPA does to influence the behaviour of a business.
What is beyond compliance regulation?
Beyond compliance regulation is our strategy for tackling the demands of a rapidly warming climate. On top of enforcing regulation, SEPA is working with businesses to help them find innovative ways of going beyond regulatory compliance. These beyond compliance initiatives are designed not just to protect the environment, but to foster and unlock unique socio-economic benefits. Sustainable Growth Agreements is one way to foster beyond compliance ambitions and implementation from regulated businesses, another is through sector planning.
You can find One Planet Prosperity case studies, showcasing beyond compliance regulation in action, below.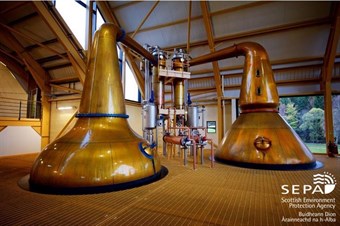 Scotch Whisky and renewable energy