Entrepreneurial Scotland Sustainable Growth Agreement
Entreperneurial Scotland (ES) is at the forefront of a movement to make Scotland the most entrepreneurial society in the world. This Sustainable Growth Agreement presents an opportunity to model what the most entrepreneurial society in the world may look like, to drive entrepreneurial leadership in an area of public and private sector collaboration and to unlock value in the process of addressing global climate challenges.
SEPA knows that by nature entrepreneurship is opportunistic and so our working approach will need to be flexible and adaptive to maximise opportunities. Over the course of the Sustainable Growth Agreement, SEPA and ES will hold workshops, regularly engage with each other and review progress and outcomes. This will ensure we find the best ways of working together to achieve our joint goals.
In the next five years of the Sustainable Growth Agreement SEPA and ES will identify at least four key environmental challenges to address. A working team made up of SEPA staff and ES's members and networks will combine new thinking with environmental expertise, producing sustainable solutions to these key challenges.
The diagram below shows how we will work together to achieve our ambitious joint aspirations. We have already used this approach with our shared efforts on the Global Tyres Challenge, which launched in 2017. This project challenged entrepreneurs to find sustainable new business opportunities for waste tyres over the next five years. The project runs parallel to SEPA's sector plan which sets targets and actions to directly tackle waste tyres and the criminal behaviours, such as illegal dumping, that the industry can attract.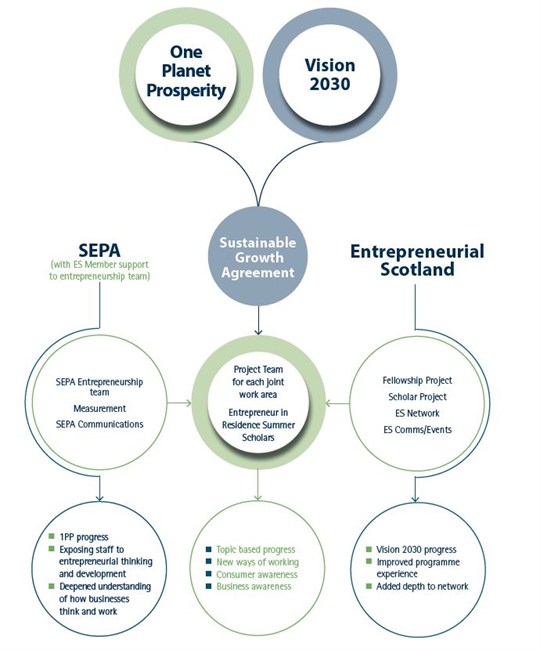 SEPA and ES have a successful track record of working together and this Sustainable Growth Agreement gives an opportunity to build on and strengthen this work.
 For the full details of this Sustainable Growth Agreement, please see the below PDF document.

Entrepreneurial Scotland SGA - PDF