Leven Programme Partnership
The Leven Programme is a partnership that is focused on achieving environmental improvements whilst maximising social and economic opportunities. The Programme's vision is:
In 2030 the Leven catchment will be a living, breathing example of inclusive growth, achieving the environmental improvements whilst maximising social and economic opportunities.

In July 2019, SEPA signed a landmark Sustainable Growth Agreement with 10 partners, locking in sustainable, inclusive growth and supporting the delivery of the partnerships six key objectives. In June 2020, a further five partners signed up to the agreement.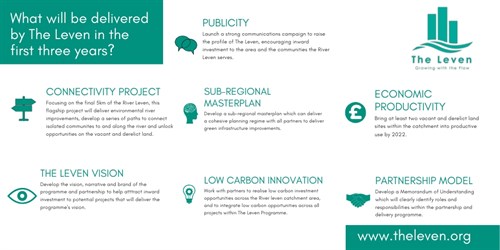 Historically the catchment was the engine of Mid-Fife sustaining several hundred mills and factories and was home to miners and workers in the manufacturing industries. Since then serious environmental challenges have arisen in the catchment with multiple pressures and environmental impacts including barriers to fish migration, water quality issues and physical modifications to the rivers. A short leaflet about the programme explains more.
Through strong partnership working the Leven catchment can be transformed into a world-leading example of environmental excellence while maximising social and economic opportunities.
In June 2020, the programme was announced as the first living case study in Volans' 'Green Swan Observatory' initiative, propelling the project to the global 'one to watch' list for innovative approaches. Volans has so far given Green Swan Awards to 'Earth Day' and the multi-award-winning Eden Project in Cornwall.
Volans' Green Swan Observatory spotlights and analyses examples that encapsulate activities needed for a regenerative future, sharing these 'Green Swan' innovations that can drive forward positively exponential change with the wider world. Its aim is to accelerate the move from a 'responsibility' agenda to one of resilience and ultimately regeneration for businesses and other organisations.
Read more from the press release on our media centre.