Mossmorran and Braefoot Bay complexes

Latest updates
ExxonMobil Fife Ethylene Plant (FEP) has issued its May 2022 update on progress towards the installation and operation of its new Enclosed Ground Flare. This and previous updates can be found on the ExxonMobil FEP website at FEP project updates | ExxonMobil UK.
Planned work at Shell UK Limited, Mossmorran: Tuesday 26 April - Sunday 1 May
The Scottish Environment Protection Agency (SEPA) is reassuring communities that it is fully engaged with Shell UK Limited following the operator's community announcement that the site will be carrying out modifications to its steam system between Tuesday 26 April and Sunday 1 May.
This work is required as part of the project to install a new flare tip on Shell's elevated flare and is part of the programme of improvement SEPA has required the Complex to carry out over the last few years. It is separate from the investment to install a new flare tip at ExxonMobil Chemical Limited carried out in 2021.
During the work there will be no steam available to the Shell UK Limited flare system. Steam is used to optimise combustion and minimise smoky flaring. No elevated flaring is expected from Shell's facility as part of the work and SEPA is satisfied that the operator has plans in place to manage capacity to reduce the risk of unplanned flaring from the plant. As a result, there may be some very limited elevated flaring from ExxonMobil Chemical Limited during the work, as it usually makes use of the Shell ground flare system. ExxonMobil's flare is not affected by the steam outage and SEPA expects it to operate as normal during this period.
Planned maintenance, plant upgrades and new infrastructure, together with SEPA's ongoing regulatory requirements and permit variations, should significantly improve the reliability of the Mossmorran Complex, reducing the requirement for flaring and significantly reducing the community impact of flaring when it does occur.
SEPA's ongoing air quality and noise monitoring remains in place.
Members of the public who are concerned about a potential pollution issue should contact our pollution hotline using our online reporting form. This is available 24 hours a day, 7 days a week.
Key dates:
June 2018 : Notices of variations to Permits were served on ExxonMobil Chemical Limited and Shell UK Limited which included the requirement to complete an evaluation of the Best Available Techniques (BAT) to prevent and, where that is not practicable, reduce emissions of noise, vibration and smoke associated with flaring.
April 2018 : Final Warning Letters to both ExxonMobil Chemical Limited and Shell UK Limited. 
January to April 2019 : SEPA air quality monitoring programme undertaken.
April 2019 : SEPA receives the Best Available Techniques (BAT) assessments from Shell UK Limited and ExxonMobil Chemical Limited.
April 2019 : ExxonMobil Chemical Limited commits to the installation of a fully enclosed ground flare.
August 2019 : Operating permit variations served on ExxonMobil Chemical Limited and Shell U.K. Limited to require both operators to achieve 'Best Available Techniques' at Mossmorran.
August 2019 : ExxonMobil Chemical Limited and Shell UK Limited each submitted environmental monitoring programmes.
August 2019 : SEPA deploys monitoring network, at three locations around site and commences regular publication of reports concluding no significant impacts on local air quality.
July 2020 : Submission of report to the Crown Office for consideration of prosecution in relation to the flaring at the Mossmorran complex during April 2019.
April 2021 : £140m ExxonMobil Chemical Limited investment programme including installation of a noise reducing flare tip.
2022 : ExxonMobil commitment to complete the installation of a fully enclosed ground flare in 2022 which the company states will reduce the use of the elevated flare by 98%.
Documents
Read the Irish Environment Protection Agency peer review of SEPA's Regulation of the PPC Permit for the ExxonMobil Chemical Ltd Fife Ethylene Installation.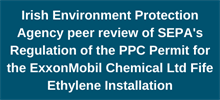 Read the SEPA response to the Irish Environment Protection Agency peer review of the Regulation of the PPC Permit for the ExxonMobil Chemical Ltd Fife Ethylene Installation.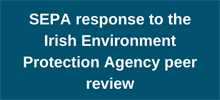 Links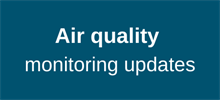 FAQs
How is SEPA regulating Mossmorran during the cyberattack?
For Mossmorran we will we continue to regulate robustly and this includes:
Work closely with the HSE as the Competent Authority under the Control of Major Accident Hazards Regulations to continue to assure ourselves that both operators are taking appropriate steps to manage any risks that may arise from COVID-19 and EU Exit.
Continue to monitor noise and air quality across local communities.
Continue to work with the companies to deliver flaring improvements in the shortest possible timeframe. We continue to be in regular contact with both companies to monitor progress.
Review and follow up on complaints, but for the safety of our staff and others, we may not be able to visit or engage with members of the community in person. As our communications have been impacted we encourage people to use our web reporting tool. In addition, we will be unable to provide a personal response, as we would normally have done when complainants request to speak directly to a SEPA officer.
Continue to respond to any significant elevated flaring by deploying staff on the ground whilst maintaining physical distancing. However, as all our staff are working from home our response may not be as rapid as it would be normally.
Who is SEPA working with regarding Mossmorran?
The site is regulated by a number of organisations including the local authority, SEPA, and the Health and Safety Executive. We also consult with NHS Fife, Health Protection Scotland and Forth Ports in order to gain information and views to support our regulatory work.

You can see more about SEPA-specific regulatory activities under the section titled 'Regulation' above
What monitoring activity does SEPA undertake during flaring events?
Flaring events can vary from a few seconds, minutes or hours to days or even weeks. Some events are planned and some are unplanned and the root causes and impacts can vary significantly (i.e. the rate at which gas is flared, steam is managed and whether there is emission of dark smoke or not). Monitoring cannot be justified on all occasions and the focus for us as a regulator is on ensuring compliance and working with the companies at Mossmorran to minimise the need to flare and to reduce the impacts.

We are reviewing arrangements for monitoring these events both proactively and reactively. We will also review the monitoring undertaken by the company and if necessary we will require the company to undertake additional monitoring. We will engage with the local community to inform our view as to what is required.
Copies of our monitoring reports are available in the Useful documents section of our Mossmorran Hub.
Why do Shell UK and ExxonMobil Chemical Limited at Mossmorran need to flare?
The flares are part of the safety system and are used to burn off gas that cannot be processed safely due to the volumes involved or the gas being off specification. This might be due to scheduled maintenance requiring the plant to be 'gas free' prior to entry; or, following an unplanned operational interruption. The flare systems include:
two 80 metre high flares at Shell FNGL;
one 100 metre high flare at ExxonMobil FEP;
two ground flares which are operated by Shell FNGL but used by both sites as required.
How often do plants flare?
The number and type of flaring events varies year to year. These events can last just a few seconds and minutes to hours and days depending on the circumstances at the time. The primary reason for flaring is safety and events can be either planned or unplanned in nature. In years where there are more planned maintenance activities an increase in the number of flaring events can be expected.
To understand the frequency, type and duration of flaring events that occur, both operators at Mossmorran are required to provide an annual report to SEPA. A summary of the data provided to SEPA for the years 2008 to 2016 is available below (some additional comments have been taken from the Independent Air Quality Review Group reports):
This data is used as part of the regulatory controls applied by SEPA to both operators under their PPC permits. Flaring incidents must also be notified to SEPA and an incident report submitted (normally 1-2 pages in length) which SEPA then follows up directly with the relevant operator.
Under the Energy Act 1976 and Petroleum Act 1998, Shell are also required to have consents in place from the Oil and Gas Authority for flaring and venting of hydrocarbons.
What are the constituents of the flare?
The main constituents of the FEP flare are ethylene and/ or ethane. Other hydrocarbons may also be present as well as hydrogen, nitrogen and steam.
What restrictions are in place on flaring and why is the flare occasionally smoky?
ExxonMobil Chemical Limited at FEP and Shell UK at FNGL are permitted to flare for safety purposes. However, there are conditions in the PPC permits relating to flaring which aim to minimise community disturbance and pollution from flaring.
In general the visual and noise impact of flaring is minimised by using the ground flares; forward planning to maximise flaring during daylight hours; and, minimising the amount of material to be flared. However when the ground flares are not available, or the flow-rates are too great (e.g. in certain start-up or shutdown operations), then the elevated flare is also used.
Smoky flaring can be minimised by the addition of steam to optimise combustion. However, excessive steam addition can give rise to noise nuisance and must therefore be carefully managed.
Both the ground and elevated flares have restrictions on flaring in their PPC permit which prevent flaring of dark smoke for greater than 15 minutes.
Any major flaring resulting in burning of hydrocarbon above 5 tonnes per hour for a period of 30 minutes also requires 7 days prior notification to SEPA.
Any major flaring which is not notified in advance, requires the operator to follow the incident procedures in the PPC permit. This includes formal notification to SEPA without delay and a follow up investigation report within 14 days to confirm the causes of the flaring event, the environmental impact and measures to prevent a further flaring event due to similar causes.
What are the impacts to health of flaring?
A modelling study undertaken in 2009 assessed the impact of emissions during flaring and normal process emissions from Fife Ethylene Plant and Fife Natural Gas Liquids plant at Mossmorran, both separately and in combination.
The following pollutants were assessed:
carbon monoxide (CO);
oxides of nitrogen (NOx as NO2);
fine particulate matter (PM10 and PM2.5);
sulphur dioxide (SO2); 
volatile organic compounds (VOCs) including benzene and 1, 3 butadiene.
The study concluded that the long and short term predicted environmental concentrations of all of the pollutants considered were well within the air quality standards for the protection of human health.
The modelling work supports the findings of an earlier ambient monitoring study undertaken by FEP to assess emissions of VOCs and fine particulate matter (PM10) between 21 August 2008 and 1 October 2008.
The study was carried out by an independent contractor, The National Physical Laboratory (NPL) and all the data was submitted to the Air Quality Monitoring Review Group for independent analysis. This included a period of elevated flaring on 5 and 6 September 2008 during which specific VOC samples were collected.
Measured concentrations of PM10, benzene and 1,3 butadiene were all within the relevant air quality standards for the protection of human health.
What responsibilities do SEPA have regarding air quality?
Local authorities have a statutory duty to review and assess local air quality in their area against the air quality objectives for various pollutants (including benzene) that are in-place to protect human health. These air quality objectives are contained within the National Air Quality Strategy for England, Scotland, Wales and Northern Ireland which was last updated in 2007.
We have a statutory responsibility to ensure that regulated processes do not result in, or contribute to, an exceedence of European air quality objectives.
What is the impact to health of emissions from the Mossmorran Complex?
We are currently satisfied that the emissions from the Mossmorran complex are not having a detrimental impact on air quality in the local communities. Several modelling and monitoring studies have shown that the concentrations of benzene and other pollutants are currently well below the air quality objectives at local residential areas. This conclusion is backed up by the Mossmorran and Braefoot Bay Independent Air Monitoring Review Group referred to above.
What is the impact of Little Raith Wind Farm on the air emissions from Mossmorran?
Ambient monitoring was undertaken at Little Raith Farm, Lochgelly and Cowdenbeath between January 2011 and March 2013 by the wind farm developer Kennedy Renewables. The monitoring results indicate that Little Raith Wind farm is having no negative impact on the dispersion of air emissions from Mossmorran. Measured concentrations of benzene following the commissioning of the wind farm in September 2013 were no higher than the concentrations measured prior to installation, and were consistent with typical rural background levels.
A final report on the monitoring undertaken by the wind-farm developer, Kennedy Renewables was published in January 2014.
We published the report -  Impact of Little Raith Windfarm on air emissions from Mossmorran.
What is the current status of the report submitted by SEPA to the Crown Office and Procurator Fiscal Service (COPFS) about flaring from the Exxon Mobile Ltd, Fife Ethylene Plant during April 2019? (1)
SEPA submitted its report in July 2020. Upon receipt of the report, COPFS become responsible for the assessment and progression of the case and any enquiries about the report should be submitted directly to them. Contact details and further information can be found at www.copfs.gov.uk.