Superglass Sustainable Growth Agreement
Through this SGA, SEPA and Superglass have agreed to work collaboratively to deliver powerful environmental performance. The agreement aims to enable Superglass to further move its business towards long-term prosperity (environmental, social and economic success) by identifying opportunities for Superglass to go beyond compliance and develop new and innovative products and/or ways of working.

Superglass is a manufacturer of glass mineral wool products, based at Thistle Industrial Estate, Kerse Rd, Stirling. Manufacturing of glass wool started on the current site in the 1950s with Superglass starting life in 1987. The manufacturing process uses more than 80% recycled glass and this post-consumer waste is sourced from around the UK. The type of insulation products manufactured at the site provide thermal, acoustic and fire insulation properties which are used in our walls, floors and roofs to retain heat in our homes, schools and businesses. Research has shown that over its lifetime, typical glass wool saves over 300 times the energy used in its manufacture and transport. Superglass products therefore have a generic British Research Establishment Green Guide rating of A+.
One year on from signing an SGA with us, some of the key outcomes for Superglass have been as follows: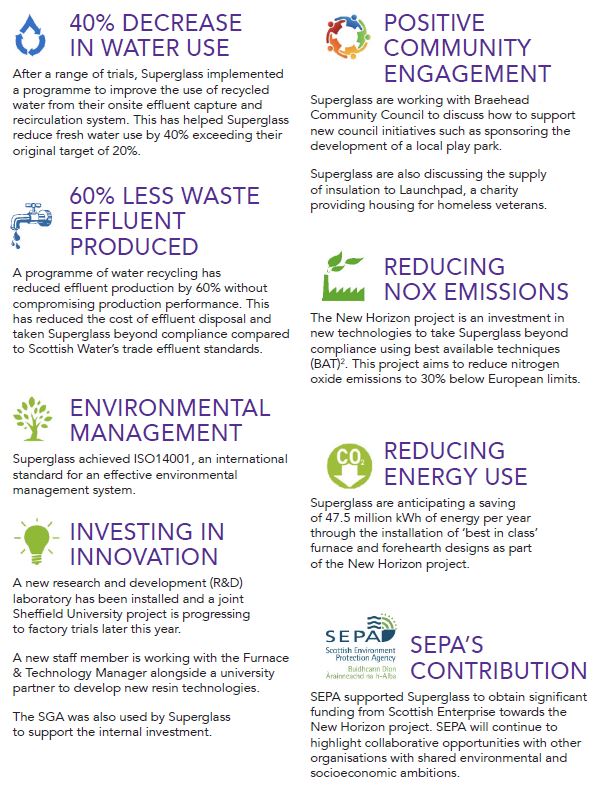 For the full details of this Sustainable Growth Agreement, please see the below PDF documents.

Superglass SGA - PDF

Superglass SGA 1 Year Review - PDF