Update on Operation Nortese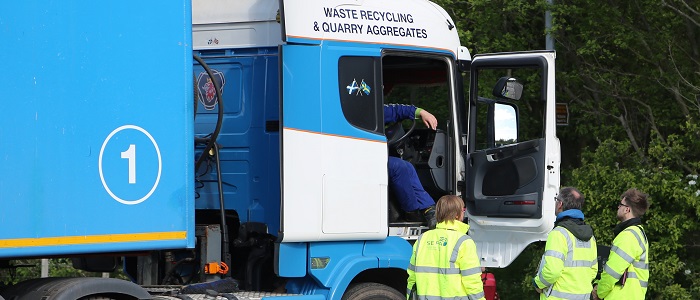 1 July 2016
SEPA, the lead beneficiary in the LIFE SMART Waste project, led three days of multi-agency action – known as 'Operation Nortese' - between the 17 and 19 May 2016 with the aim of tackling cross-border criminal activity in the UK waste industry.
This initiative, targeting illicit waste transport, is preliminary work that informs the project's action of setting up cross-agency intervention groups and delivering innovative interventions to tackle waste crime issues associated with 'challenging' waste streams.
Operation Nortese included site inspections, roadside stops and port checks in collaboration with a range of partner enforcement agencies such as the Environment Agency, Police Scotland, the British Transport Police, HM Revenue and Customs, the Scottish Business Resilience Centre, and Driver and Vehicle Standards Agency.
Interventions were carried out jointly between SEPA and key partners during each day of action to ensure a common understanding of inspection techniques and intelligence sharing. As part of the exercise, vehicles and waste operations were targeted across Northern England, the Scottish Borders and Dumfries and Galloway, while certain interventions also required close coordination with environmental counterparts in Northern Ireland and the Republic of Ireland.  Across the days of action our officers stopped 256 vehicles of which 121 were of interest to SEPA; the issue of three warning letters as well as two Notices of Intent for Fixed Monetary Penalties. 
In advance of and during the initiative, SEPA heavily reinforced the message that compliance is not optional by issuing a statement via the media and by distributing a 'Clamping Down on Waste Crime' information leaflet to almost 8,000 registered waste carriers and brokers in Scotland.
The LIFE SMART Waste project team gained useful knowledge on multi-agency interventions through Operation Nortese and the learning will be used in forthcoming project interventions and the development of supporting intervention toolkits.  There are currently plans to deliver three bundles of interventions by 2018.
For additional information on Operation Nortese, read SEPA's media statement (11 May 2016).
Back to News and events