LIFE SMART Waste project completion

The LIFE SMART Waste project (2014-2020) has finally drawn to a close with the completion of its ambitious action plans to develop and demonstrate innovative ways of understanding, tackling and reducing the issue of waste crime.

Over six years, LIFE SMART Waste developed and piloted a range of innovative tools, techniques and approaches offering capacity-building potential for agencies seeking to ...
INTERPOL publishes report on global plastic waste management

INTERPOL have published a new open-source strategic analysis report on global plastic waste management that highlights an alarming increase in illegal plastic pollution trade across the world since 2018.

Funded by the LIFE SMART Waste project, the report indicates that there has been a considerable increase over the past two years in illegal waste shipments ...
Digital brochure published

We have published a digital brochure summarising LIFE SMART Waste's results and the recommendations arising from the project's capacity-building initiatives to help regulators and law enforcement agencies to tackle waste crime.

In the brochure we outline the innovative predictive analysis, detection and collaboration ...
Criminal trends in the global plastic waste market
| | |
| --- | --- |
| | In the wake of restrictions on foreign waste imports since 2018, we have worked with INTERPOL to help prepare and publish two strategic analysis reports, one assessing the criminal trends observed in the global plastic waste market and one with an additional European focus. |
***** FINAL CONFERENCE (BRUSSELS, 2019) *****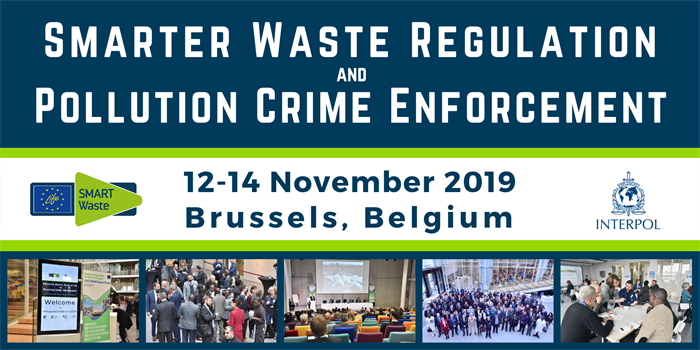 News archive
2019
2018
2017
2016
2015