Enhanced External Steering Group for LIFE SMART Waste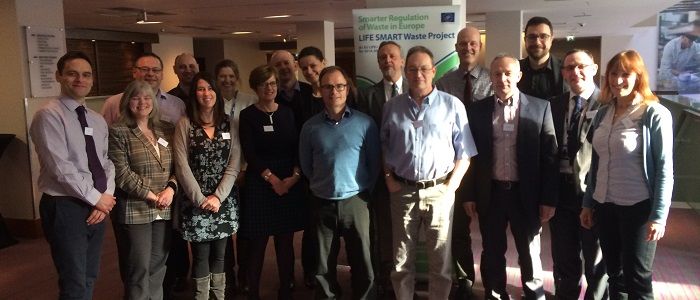 7 March 2017
The External Steering Group (ESG) for the LIFE SMART Waste has recently been expanded with new members to provide the project with a broader range of expertise and experience of tackling waste crime in Europe.
The newly-enhanced ESG assembled in Glasgow on 1 March 2017 to review the progress being made on a range of project products in development and to participate in related workshops. The workshops focused on: a Financial Investigations toolkit proposal (presented by Cranfield University); a draft Interventions Design Manual (presented by Cambrensis); the communications 'Hub' pilot; and the project's engagement with EU policy makers and legislators.
The newly enhanced ESG now includes representation from:
Association of Cities and Regions for sustainable Resource management (ACR+)
Chartered Institute of Wastes Management (CIWM)
Crown Office and Procurator Fiscal Service (COPFS)
Environment Agency (England)
The European Network of Prosecutors for the Environment (ENPE)
HM Revenue & Customs (HMRC)
Bruxelles Environnement – Leefmilieu Brussel (IBGE-BIM)
Ireland's Environment Protection Agency
Legambiente
Natural Resources Wales
Northern Ireland Environment Agency (NIEA)
Police Scotland
Scottish Environment Protection Agency (SEPA)
Scotland Europa
Zero Waste Scotland
The ESG was originally formed at the project's inception to ensure that the project delivers innovation and useable products through collaboration and productive partnerships. The members provide constructive advice and guidance on technical aspects of the project and help to shape, challenge and review project products. In addition to this quality assurance role, ESG members advise on opportunities for collaborative working through their professional networks and help to ensure alignment between the project and complementary work being undertaken by partners.
For more information, visit the ESG page.
Back to News and events.