Illegal waste warehousing intervention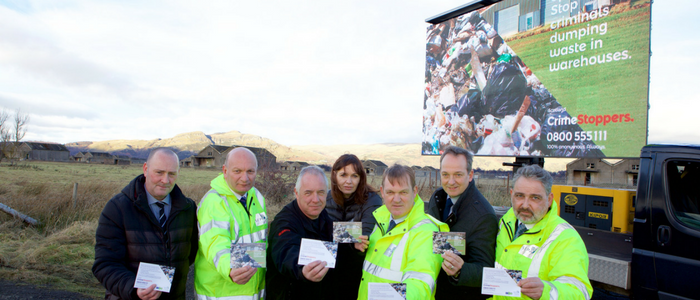 31 March 2018

LIFE SMART Waste have partnered with Crimestoppers and a range of organisations to deliver a joint intervention to help tackle the issue of illegal dumping of waste in warehouses and farm buildings.
In the UK we are seeing an increase in incidents of criminals using warehouses and farm buildings to illegally dispose of massive quantities of waste materials. This can result in environmental damage, social disruption and significant cost to our economy. LIFE SMART Waste selected the illegal warehousing of waste to test and pilot the project's recently-designed Intervention Design Manual which provides a structured, collaborative approach to designing and implementing waste crime interventions. 
As a key part of the Intervention Design Manual approach, we brought together and worked with an 'Expert Group' of partner agencies that included: Crimestoppers, Scottish Business Resilience Centre, Scottish Fire and Rescue Service; Police Scotland; West Dunbartonshire Council; North Lanarkshire Council and Neighbourhood Watch. For this relatively small-scale pilot, the Expert Group determined that a communications intervention would have the greatest impact in reducing the incidence of warehousing in waste crime.
The Expert Group selected Crimestoppers to deliver a public-facing educational campaign to deter and prevent the illegal dumping of waste in warehouses. Crimestoppers was deemed to be the appropriate lead for this activity as it is a highly regarded and trusted independent charity that specialises in helping law enforcement agencies to locate criminals and help solve crimes.
The resultant Crimestoppers campaign was activated during December 2017 - February 2018 using social media and traditional media channels to call upon industry stakeholders and the Scottish public to be vigilant and report any suspicious or unusual behaviour. To generate intelligence about suspected offenders, the campaign messaging highlighted Crimestoppers' anonymous telephone service and online reporting form. This resulted in a number of forms being submitted by members of the public, although no actionable intelligence was obtained during the short life of the campaign.
As a key part of the communications intervention, LIFE SMART Waste also engaged with key professional and representative bodies to alert landlords, property owners and businesses to highlight their obligations and responsibilities relating to waste warehousing and storage. Land and property owners were made aware of their responsibility to ensure that anyone leasing their land or property complies with existing regulations and that they may be committing an offence by allowing waste to be stored without the relevant permissions, leaving themselves liable to prosecution.
For further information about the campaign, visit the Crimestoppers web site or view the following related materials:

 Back to News and events